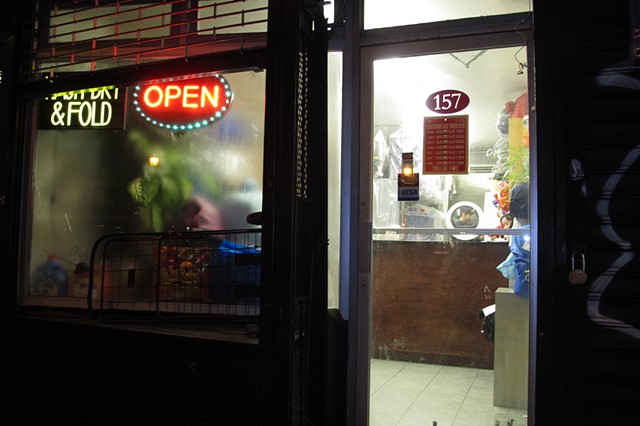 NEW EVENTS & PUBLICATIONS
March 2, 2018 Lonely City (nightwalks) @ UArts SPE Philadelphia
2017 Guts reading series, Dixon Place, New York, curated by Dia Felix
"The Dyke Bar is Dead, Long Live the Dyke Bar: Performing History in Macon Reed's Eulogy" in Sinister Wisdom: Variations - on sale now
"Photographing the Invisible: LaToya Ruby Frazier" feature in Art Practical #7.3: An Unending Theft of Opportunity
"I'd Rather Be Here Now: The Performative Verb of Painting. Interview with Anoka Faruqee" X-TRA Contemporary Art Quarterly (Los Angeles)
*"Farm Fresh Art: Food, Art, Politics, and the Blossoming of Social Practice" feature article in the Food Issue *Art Practical (SF) Reprinted as feature in Proximity Magazine (Chicago)
"Introduction" to Claude Cahun / Sarah Pucill exhibition catalogue, published by Bow Arts, London 2015
"Magritte: Mystery of the Ordinary1926-1938 at MoMA" review Daily Serving 12.17.2013
"Photographing the Invisible: LaToya Ruby Frazier at the Brooklyn Museum" Daily Serving 07.13
Aug 19 & 20, 2017 "Total Eclipse of the Art: How Artists Envision the Sun, Moon & Cosmos" lecture by Dr. Liena Vayzman, OSU Space Grant Eclipse Festival, Oregon State University, Corvallis Schedule of events
April 5, 2017 LV video footage of Pussy Riot Theater at "Calling All Collectives" - Visual Resistance Forum, CUNY Hunter College Galleries (205 Hudson Gallery), New York
March 29, 2017 LV at Stories My Friends Tell Me, curated by Chris Cobb - Archestratus Books, Brooklyn NY
2017 LV panel "Digital Learning in the Arts," w/ Dahlia Elsayed & Tom Dempsey, CUNY IT Conference, John Jay College, City University of New York
Oct. 29, 2016 Society for Photographic Education, NE Conference -Penumbra Foundation, NYC: "Partnerships, Pedagogy, and Photography at CUNY" w/Liena Vayzman and Robin Michals, co-chairs, and Scott Sternbach and Reiner Leist
Info|
"Art as Response to Attacks on LGBT Rights in Russia on the Eve of the Sochi Olympics" Huffington Post 9.28.13
"Magritte at MoMA" Huffington Post 01.17.2014
Bio & curator's essay on Chance Operations exhibition SWITCH New Media Journal at San Jose State University
"Latin American Photography" talk in "Teaching Latin America" faculty panel discussion at Latino/a @ LaGuardia Symposium, LaGuardia Community College, City University of New York* March 2016
Courtauld Institute of Art (University of London), History of Photography Research Seminar 5 May 2015 Liena Vayzman "Staging the Self: Claude Cahun's Self-Portraits and the Aesthetics of Resistance"
Sat 9 May 2015 Nunnery Gallery, Bow Arts, London Breaking the Rules: Gender, Photography and Performance from Claude Cahun to Today. Panel discussion with Juliet Jacques, Liena Vayzman, Ingo Andersson, and curator Karen LeRoy Harris
"The Self-Portraits of Claude Cahun: Transgression, Self-Representation, and Avant-Garde Photography, 1917-1947" by Liena Vayzman, Yale University, PhD Dissertation, Abstract
Professor Liena Vayzman's course on Contemporary Art: 1945 to the Present at Wesleyan University, Spring 2014 PopUp ArtZine and Syllabus
Crystal Palace Film Fest screening & Liena Vayzman curator lecture State University of New York - WCC Center for Digital Arts 10.22.2013
Crystal Palace: 1st ArtSpace Experimental Film and Video Festival curated by Liena Vayzman Info.. + Blog
Women and the Politics of Representation Panel at Yale Club of New York with Carol Armstrong (Yale History of Art), Judith Resnik (Yale Law School), Linda Greenhouse (Yale Law School/New York Times), Laura Wexler (Yale Women's, Gender, and Sexuality Studies), and Liena Vayzman
Material Cultures in the Space Between, 1914-1945, Brown University, 06.14.2012 - 06.16.201214th Annual Conference of the Space Between Society: Culture and Literature Between WWI and WWII Liena Vayzman, "Claude Cahun and Marcel Moore's Photographs, Channel Islands, c. 1938-39: Translocation, Collaborative Authorship, and the Material Limits of Photography." Panel on Photography and the 1930s
Photographic Memory Workshop at Yale, 12.07.2011
"Claude Cahun and Marcel Moore's Photographs in the Channel Islands: Liminal Geography, Political Resistance and the Limits of Queer Self-Exposure"
* "Women and the Politics of Representation" panel Yale Law School, 11.8.2011
Liena Vayzman, "Yale's First Women PhDs, 1894: Photographic Traces and Recovered Histories of Pioneering Scholars and Scientists." With Carol Armstrong and Judith Resnik, discussants: Linda Greenhouse and Laura Wexler, intro: Priyamvada Natarajan.
Climate Curators'NightLight Flickr Slideshow
Maria the Korean Bride @ ATA curated by Liena Vayzman YouTube video
* Lemon Tree Project in Time (Lapse) at Krowswork Gallery Oakland CA, 2010. SF Chronicle:"Don't Miss" this Muybridge-inspired show.
Understanding Sustainability: Perspectives from the Humanities 2nd International Conference at Portland State University, May 20-23, 2010
*College Art Association conference, Chicago, Feb. 13, 2010 "Food as Art as Sustainability Activism: The Politics of Agriculture and Food Systems in 21st Century Art Practices" in the session "Artist Citizen: Catalysts, Collectives, Utopias"




Liena Vayzman, Lonely City (Nightwalks) #1, 2017.
Lonely City (Nightwalks) debuts at SPE National Conference 6th annual juried exhibition, University of the Arts, Philadelphia. Opening March 2, 2018, 6:30-8:30pm. On view March 1-4, 2018.

About
Liena Vayzman is an art historian specializing in modern art and photography, curator, and photographer. She earned the BA in Art at Vassar College, a Post-Diplome at Ecole Regional des Beaux-Arts de Nantes (France), and the MA and PhD in History of Art at Yale University. She completed her PhD dissertation on Surrealist photographer Claude Cahun. Dr. Vayzman is Assistant Professor of Fine Arts in the Humanities Department at LaGuardia Community College, City University of New York. Her critical writing has been published in X-TRA Contemporary Art Journal (LA), Proximity Magazine (Chicago), Art Practical (San Francisco), Huffington Post, Daily Serving, Radical Society, Yale University Art Gallery Bulletin, SlashSeconds (UK), and Hanatsubaki (Tokyo). Her photographs have been published and exhibited internationally. Recently, she spoke on Walker Evans in conjunction with an exhibition of Walker Evans' Subway Portraits at CUNY LaGuardia; published on LaToya Ruby Frazier; wrote the introduction to an exhibition catalogue of Claude Cahun and Sarah Pucill in London, and presented interdisciplinary lectures on the 2017solar eclipse in art and photography at Oregon State University and at Dixon Place in New York. She is drawn to self-portraits, anti-mastery, and photographing Queens at night.